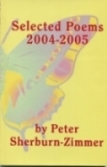 Current Bio: butterfly, anarchist, pacifist, agnostic. slum kid with a Ph.D. former academic, retired philosopher...
.in SF this time since 93, 1st time 67; 1st poem, 1963...some degrees. some friends. then 3 children.
2 poetry books [Selected Poems, 2004-1005 and Approximations] and Poetry: Open to Interpretation [Wallace Stevens]. former recluse. Published in anthologies and broadsides by Rothenberg [Jerome], Vince Storti, Ronald Sauer & Rebecca Peters, Fanny Renor, Neeli Cherkovski, SF Public Library. Just likes to write, listen to his friends and read... and talk to people on the bus.