MARCH 2015

SUN
MON
TUES
WED
THU
FRI
SAT
1
2
3
4
5
6
7
8
9
10
11
12
13
14
15
16
17
18
19
20
21
22
23
24
25
26
27
28
29
30
31

EVENT CALENDARS
Bay Area calendars
for Poetry, Art and Literature Events
Poetry Flash
Litseen
SF Station
SF Arts
The Poet's One-Page Guide
San Francisco's Open Mic Poetry Scene.

Peace & Justice Calendars
Global Exchange
Bay Area IndymediaSF
for upcoming civic actions

ONGOING EVENTS *ART *FILM (current movie calendars)


MONTHLY READING SERIES
Open Mic

RADIO and more.


LOVE in ACTION Projects
events on the calendar that show this little red heart are what S. F. Heart calls love in action projects, benefits, fundraiser's for good causes.

POETRY FESTIVALS
Petaluma Poetry Walk
Geri Digiorno
San Francisco Mime Troupe
San Francisco 415-285-1717


all donations are tax deductible
RESOURCES
Bay Area Literacy
California Poets in the Schools

BAY AREA JOURNALS
& SUBMISSION SUGGESTIONS
Haight Ashbury Literary Review
E-Mail or 415-751-9226
Indigo Hotchkiss
Ambush Review submissions
1859 Powell St, #122
San Francisco, CA 94133
Editors: Bob Booker -Patrick Cahill
North Coast Literary Review
Online submission for print journal


To Submit an Event
~*~
2015 is the 18th Anniversary of
S.F. Heart.com and the 8th year of the
San Francisco Art and Poetry Calendar

The SAN FRANCISCO ART AND POETRY CALENDAR IS UPDATED DAILY
♥~*~♥~*~♥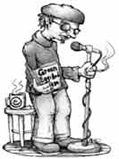 Please support the Venues found
within the San Francisco Art and Poetry Calendar each month who are providing space for our local artists, poets, writers, musicians and other creative individuals to do
what they love.
Adobe Books,
826 Valencia
San Francisco
Alley Cat Books
3036 24th St.
San Francisco
*Art House Gallery & Cultural Center
2905 Shattuck Ave.
Berkeley, Ca.
Beat Museum
540 Broadway
North Beach
San Francisco
Bird & Beckett Books
and Cultural Legacy Project
653 Chenery St.
bet. Diamond and Castro
San Francisco (map)
(415)586-3733
Booksmith
1644 Haight St.
San Francisco
California College of the Arts
195 De Haro Street (at 15th Street)
San Francisco
*City Lights Bookstore
261 Columbus Avenue
San Francisco
(415) 362-8193
De Young Museum
50 Hagiwara Tea Garden Dr.
Golden Gate Park
San Francisco

*The Emerald Tablet
80 Fresno St.
San Francisco map
First Unitarian Universalist Church
Martin Luther King Room
1187 Geary St. at Franklin
San Francisco
Galería de la Raza
2857 24th Street
San Francisco
Green Apple Books
506 Clement St.
San Francisco
Green Apple Books on the Park
1231 9th Ave
San Francisco
The Green Arcade
1680 Market Street
San Francisco
La Promenade Cafe
3643 Balboa St.@38th Ave,
San Francisco
Readers Bookstore,
Fort Mason Building C
Fort Mason Center
San Francisco
Palace of the Legion of Honor
Lincoln Park
100 34th Avenue
San Francisco

Red Poppy Art House
2698 Folsom Street
San Francisco
Sacred Grounds Cafe
2095 Hayes @ Cole
San Francisco

*San Francisco Main Library
Koret Auditorium
100 Larkin
San Francisco (map)
Viracocha
998 Valencia St @ 21st.
San Francisco